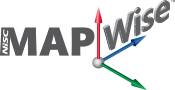 Leverage your data like never before with NISC MapWise®. NISC MapWise is an integrated intelligent mapping solution designed to help visualize data—enabling you to find relationships that might be not as easy to connect on a spreadsheet. Fully integrated into iVUE®, this mapping solution helps you visually identify trends in your customer information, better gauge various accounting data and how it relates with other variables. In addition to staking and GIS capabilities, MapWise has a team of dedicated professionals who can help you ensure your maps are accurate and function well between NISC's Customer Care and Billing solution and NISC's Operations solution.
Staking

Empower field technicians to quickly, accurately and easily update maps, build up-to-date staking sheets, stake jobs, and also conduct equipment and location maintenance and verify field information—all from a single, interface.
Geographic Information System (GIS)

Having the right tools is key to an efficient work flow. Empower your staff with maps at everyone's fingertips. NISC's GIS allows you to capture, manage, analyze and display your utility's data across the organization.
Viewer

NISC's map viewers encompass your utility's systems so you can see the 'big picture'. NISC's secure viewers provide multiple, convenient ways to view your maps. Leverage data from a web browser to a tightly integrated application within all of iVUE.
GIS Services

GIS accuracy is more important than ever. Our dedicated GIS Team offers a full range of options to better manage your GIS. Our services include developing and maintaining a new GIS, helping clean up existing GIS or maintain an existing map.
iVUE® AppSuite


iVUE AppSuite provides access to your maps from a single, smart device. Monitor, manage, assign and work in real-time or in a disconnected state. Access information from where ever you are to make the best decision for your membership and personnel.