Enterprise
Your organization requires collaboration to provide the best possible service to your community. Data silos are ineffective and inefficient. Your technology should not only enable the sharing of information – but enhance it, regardless of role or location. That's the strength of the NISC Enterprise – integration across the organization, from the front office to the field.

The NISC experience has made my tasks simpler, quicker, more organized, and researching is easier since everything is all in iVUE.
~ Rhonda Buscemi
Concord Municipal Light Plant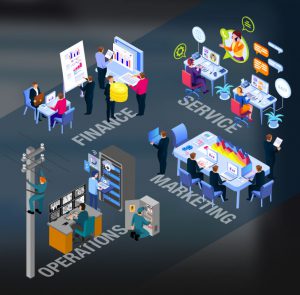 A True Enterprise Experience
Your staff shouldn't have to work in silos. A best-of-breed solution approach can make it difficult to share data, gain insights and truly understand what's going on with your business.
NISC offers a true enterprise experience that's designed to operate like you do, putting the business processes you use most front and center. The NISC Enterprise offers persona-based features and functionality, designed to match the processes in your office from Financials and Operations to Marketing, Service and beyond. The NISC Enterprise is streamlined to work across your organization so you can keep your focus on your most important assets, your customers.
Core Enterprise Solutions
There is core functionality that is critical to the success of your business. Every one of NISC's enterprise solution packages leverages the latest technology to help you go mobile, stay connected and work seamlessly across your organization. Innovative solutions that help build efficiency…at no additional cost.
Board Meeting Management with CalltoOrder

Preparing for a board meeting can be a complicated process. Collecting, printing and preparing the materials alone is quite the undertaking. NISC's CalltoOrder board meeting app for Apple iPad helps simplify the board meeting process by compiling important documents, agendas and customized meeting information digitally in one place. Users can also add sticky notes to any items in the app to help remember important information after the meeting.

Document Management

When you need access to important documentation quickly, the last thing you want to do is have to follow a long paper trail to find it. NISC's Document Management allows for easy indexing, sharing and archiving of all important documentation, including digital replicas available throughout the NISC Enterprise.

iVUE Anywhere with iVUE AppSuite

In a constantly changing and increasingly digital world, being agile is extremely important. It's difficult to accomplish business-critical tasks when you can't be at your computer. iVUE AppSuite takes your enterprise data into the field. With key accounting, customer care and engineering features, the iVUE AppSuite app will help you accomplish your goals anywhere, anytime.

Business Intelligence & Reporting

Having access to your data is important, but being able to take action on that data and information is critical. NISC's Business Intelligence & Reporting solution helps you turn your data into actionable information. Available through the cloud, you'll see visualizations of your data that will help you quickly understand your data to take action or dive into each report in greater detail.

Multi-Channel Messaging

Building and establishing connections in your community all starts with communication. Every customer is different and reaching those customers can be challenging. NISC's Multi-Channel Messaging allows you to connect with your customers in the manner they prefer. Whether they want text messages, push notifications, phone calls or even a printed letter, they can let you know their preference and you can ensure your messages are being received.
Engage the Enterprise Now!
Complete the form below to access additional information about NISC's enterprise system and to have an NISC representative reach out to answer any of your questions.