Financials
Your accounting and human resources departments work across your organization. Getting the data they need quickly and efficiently should be a breeze. NISC Financials provides streamlined and flexible accounting and HR solutions that work across the enterprise and give your employees the ability to access self-service features anytime, anywhere.
General Accounting

General Accounting

Easily manage your general ledger and budget as well as bank reconciliations, installment loans and miscellaneous receivables to keep your organization's financial goals top of mind.

Plant Accounting

Plant Accounting

Track your organization's assets including special equipment and central office equipment and easily oversee your fleets and work orders.

Purchasing

Purchasing

Maintain purchase order information, streamline approval processes and maximize cash control by monitoring due dates and discounts.

Material Management

Material Management

Keep track of your organization's assets and easily group, report or distribute associated costs.

Human Resources and Payroll

Human Resources and Payroll

Oversee employee benefits and payroll and give your employees self-service capabilities to access their personnel-related information with ease from a centralized location.

During the pandemic with so many of our employees working remotely, we really found that NISC's Financials saved us. We have over 500 employees and a limited payroll staff, so efficiency is extremely important to us.
~ Cindy Layne
Middle Tennessee Electric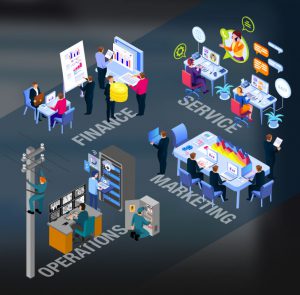 Expanding the Enterprise
NISC's Enterprise Solutions are designed for cooperation, leveraging your data across each persona for quick, efficient access, regardless of your daily tasks. Every one of NISC's Enterprise Solutions includes items that will help you go mobile, stay connected and serve your customers successfully.
CalltoOrder Meeting Management
Document Management
iVUE AppSuite
Business Intelligence & Reporting
Multi-Channel Messaging
Empower Your Employees Now!
Complete the form below to access additional information about NISC's enterprise system and to have an NISC representative reach out to answer any of your questions.