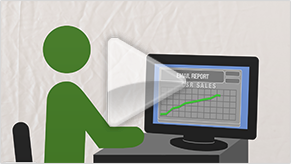 The NISC Marketing/Campaign solution is designed to support effective target marketing and upselling capabilities. Through the use of the campaign alerts and tracking the take rate for each campaign by marketing channel, you can increase customer satisfaction, maintain the retention of your customer base and have a process in place to help increase revenue with each customer contact. Integration with Nielsen Market Segmentation means you have the power to classify and target your customers (and prospects) by age group, income level, interest and likelihood of adopting new technology. Make the most of your marketing dollars and time investment!
Marketing Campaigns

Setup and maintain campaigns, identify campaign objectives and target market within CPNI guidelines. Make upselling easier with alert hyperlinks to show promotions that are applicable to customers and link to the marketing material to ensure your message is consistent across your telecom.
Marketing Channels

Maximize your advertising resources and staff's time by focusing on much narrow market segments and better target your audience. Run unlimited queries to include and exclude customers from the campaign through Agreement Query Builder and export that data to support mail-merge for mass mailing.
Tracking

Track the success rates of your campaigns. View a summary of campaign interactions and audit CSR interactions to see how the campaign is progressing and where improvement can be made. View accepted, maybe and rejected promotions along with the reason code to help you shape your future campaigns.