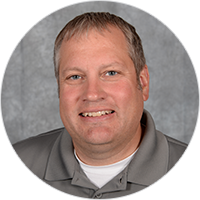 Lake Saint Louis, Mo., May 17, 2023 – National Information Solutions Cooperative (NISC), a leading provider of IT solutions to broadband and utility organizations, has named Mike Weber Vice President of Member Success.
Weber has served NISC's Members for 26 years, with a long history of serving in a leadership role in Member Support. He most recently served as Director of Member Support following an organizational restructure in 2021. He'll officially assume the new role on May 28.
"Employee development, including leadership development, is an important tradition at NISC. It's great when these opportunities come along, and we had several qualified candidates from our current employees to choose from," said Doug Remboldt, NISC Vice President of Member Success and incoming President and CEO. "Mike has a passion for service and serves with a sense of urgency. I'm excited for Mike and his future contributions to our Members and employees."
"I am humbled by the opportunity to serve our Members and employees in this role," Weber said. "NISC is built on the shared goal of helping our Members succeed. I'm excited to continue that legacy, continue to strengthen those relationships and help Members get the most out of their partnership with NISC."
NISC's Member Success Division consists of Account Management, Member Value and Member Support groups, which are focused on strengthening partnerships with Members, helping them get the most value possible from their NISC solutions, and providing them world-class support and training.
About NISC
NISC is an information technology organization that develops, implements, and supports software and hardware solutions for our Members. We deliver advanced solutions, services, and support to 945 independent broadband companies, electric cooperatives, and other public power entities. NISC is an industry leader providing information technology solutions, including financials, service, operations, and marketing, as well as many other supporting platforms and business services. With facilities in Mandan, North Dakota; Lake Saint Louis, Missouri; Cedar Rapids, Iowa; and Blacksburg, Virginia, NISC and its subsidiary employ more than 1,300 professionals between the four locations and remotely throughout the United States.