2013 Esri Partner Conference Selects NISC as Winner for Mobile Application Category
National Information Solutions Cooperative (NISC), a leading information technology company that develops and supports software and hardware solutions, has been selected as the recipient of the 2013 Esri Partner Conference Award for Mobile Application.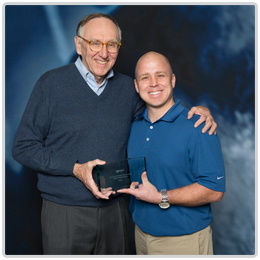 NISC's Research and Development Manager,
Patrick O'Brien, accepts the Esri Partner Conference Award for Mobile Application from Esri President, Jack Dangermond, at the Esri Partner Conference on Sunday, March 24.
"Winning this award is great," said Todd Eisenhauer, Vice President of Engineering and Operations at NISC. "Our teams are dedicated to learning and embracing new technologies. To see their hard work recognized by Esri reaffirms their dedication to creating solutions that work for our users." NISC's iVUE AppSuite, the winning solution of the Mobile Application Award, empowers users to easily access important data including maps, manage service interruptions, work orders, capture and upload images, monitor active jobs and more, all from a smart device—from anywhere.
"NISC has been a trusted partner of Esri's for years," said Josh Lewis, Director of the Esri Partner Network. "This award demonstrates their innovation and agility, and a great example of the value they can bring our users."
"This is an exciting time for the iVUE AppSuite solution," said Tracy Hudson, Product Line Manager at NISC. "This is just the beginning of iVUE AppSuite, as this solution continues to develop, integration with partners like Esri are key to providing a robust, enterprise solution that our Member and Customers need to get their jobs done."
"NISC's iVUE AppSuite has provided electric utilities with the most state-of-the-art mobile mapping, work management and outage management solutions," said Brad Smith, Field Services Representative from Northwestern Rural Electric Cooperative. "Beyond the innovation, this product is comprised of intuitive functions eliminating extensive training and frequent support calls. It is truly an 'out-of-the-box' tool that brings great value to our workflow."
The 2013 Esri Partner Conference (EPC) is where Partners are nominated by an Esri or Esri distributor team member and then recognized for developing and delivering quality Esri software-based solutions or services in one of nine categories. "As an Esri Gold Partner attending the 2013 Esri Partner Conference, it's exciting to see new features and advancements in the field of GIS on display. Inspires us to continue to think of innovative solutions that add value for our end users," said Patrick O'Brien, NISC's Manager of Research and Development.
About Esri
Since 1969, Esri has been giving customers around the world the power to think and plan geographically. The market leader in geographic information system (GIS) technology, Esri software is used in more than 300,000 organizations worldwide including each of the 200 largest cities in the United States, most national governments, more than two-thirds of Fortune 500 companies, and more than 7,000 colleges and universities. Esri applications running on more than one million desktops and thousands of web and enterprise servers, provide the backbone for the world's mapping and spatial analysis. Esri is the only vendor that provides complete technical solutions for desktop, mobile, server, and Internet platforms. Visit Esri at esri.com/news.
About NISC
National Information Solutions Cooperative (NISC) is an information technology company that develops, implements and supports software and hardware solutions for our Members/Customers. We deliver advanced solutions, services and support to more than 700 independent telephone companies, electric cooperatives and other public power entities in 48 states, one U.S. territory, Palau and Canada. NISC is an industry leader providing information technology solutions for customer billing, accounting, engineering and operations, e-solutions, automated mailroom services, bill printing, third-party integration as well as many other IT solutions. NISC has facilities in Mandan, N.D., Lake Saint Louis, Mo., Cedar Rapids, Iowa and Shawano, Wis. and employs more than 940 professionals between the four locations. Additional information can be found at www.nisc.coop.