Training Opportunities, Dedication and Shared Values Boosts Ranking to 14 Overall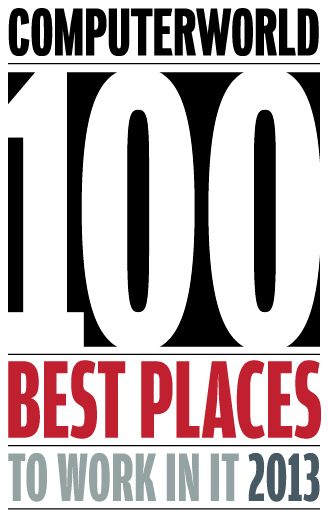 Lake Saint Louis, Mo.
— National Information Solutions Cooperative (NISC), a leading provider of information technology products and services to utilities and telecommunications organizations, has once again been listed among the "Best Places to Work in IT" by IDG's Computerworld magazine. The 2013 honor marks the 10
th
-consecutive time that NISC has been named to the list.
"This recognition is special, not because of the award itself, but because it's based on feedback directly from our employees, the people that make NISC the best place to work," said Vern Dosch, NISC President and CEO. "Our organization is based on innovation and collaboration, a workplace dedicated to serving our Member/Owners and an organization that likes to have a little fun."
Starting in 2004, NISC has been listed among the "Best Places to Work in IT" for 10 years running, listed 11 of the past 12 years overall. This year, NISC achieved its second highest ranking in that time period, 14th overall, including a No. 5 ranking for small business. While NISC focuses on providing the best technological solutions possible to their Members and Customers, Computerworld takes many factors into consideration, including NISC's dedication to shared values – integrity, relationships, innovation, teamwork, empowerment and personal development.
"We applaud the organizations on the Best Places to Work in IT list for creating and sustaining dynamic IT work environments," said Scot Finnie, editor in chief of Computerworld. " It's clear that the best IT workplaces are constantly raising the bar with great benefits, new learning opportunities, access to cutting-edge technologies and challenging business-critical projects."
NISC also achieved a top 10 ranking for training (No. 5 overall), recognizing the variety of employee training opportunities—including a tuition reimbursement that covers a bachelor's or master's degree, an annual employee learning quarter and many virtual learning opportunities through Pathways, a virtual, online learning portal. Employees are also provided the ability to contribute ideas to a company focused on new and upcoming technologies.
"NISC and our employees are honored and humbled to be selected to this elite list," said Doug Remboldt, Vice President of Utility and Shared Services for NISC. "We have the good fortune to work with great employees and fantastic Member/Owners. Having the privilege of creating, delivering and supporting industry—leading IT solutions to Members, and then learning from those Members each day is what excites us about coming to work."
About Computerworld
Computerworld is the leading source of technology news and information for IT influencers, providing peer perspective, IT leadership and business results. Computerworld's award-winning website (www.computerworld.com), publication, focused conference series, custom solutions and custom research forms the hub of the world's largest (40+ edition) global IT media network and provides opportunities for IT solutions providers to engage this audience. Computerworld leads the industry with an online audience of over 3.8 million unique, monthly visitors (Omniture, November 2012) and was recognized as the Best Website by ASBPE and TABPI in 2012. Computerworld is published by IDG Enterprise, a subsidiary of International Data Group (IDG), the world's leading media, events and research company. Company information is available at www.idgenterprise.com.
About NISC
National Information Solutions Cooperative (NISC) is an information technology company that develops, implements and supports software and hardware solutions for our Members/Customers. We deliver advanced solutions, services and support to more than 650 independent telephone companies, electric cooperatives and other public power entities in 47 states, one U.S. territory, Palau and Canada. NISC is an industry leader providing information technology solutions for consumer and subscriber billing, accounting, engineering and operations, e-solutions, automated mailroom services, bill printing, third-party integration as well as many other IT solutions. NISC has facilities in Mandan, N.D., Lake Saint Louis, Mo., Cedar Rapids, Iowa and Shawano, Wis. and employs more than 940 professionals between the four locations.