Does Your Password Make the Grade?
NISC's Information Security Team implemented a password complexity checker to help you assess
the strength of your passwords and learn more about why it may not have made the grade.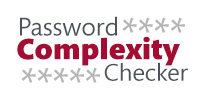 Start typing a password
in the input field below:
Definitions of failure reasons:
Minimum Length: The chosen password was not ten characters or more in length. Eight characters may be acceptable for some passwords but ten or more is recommended.
Complexity Requirements: Three of four different types of characters must be used. Types that can be used are uppercase, lowercase, number and special characters.
Keywalking: Using four or more keys that are located directly beside each other, such as qwerty or 1234.
Blacklist: The password was a member of a known blacklist which has already been published to the internet that password crackers look for specifically.
English Word: The password contained some form of a single English word.
If you would like to learn more about the Password Audit Service, contact us at 866.999.6472 or via e-mail infosec@nisc.coop. Please keep in mind password complexity is only one aspect of an information security evaluation.
Compatibility:
IE 8 and above with compatibility mode disabled, any recent version of Firefox or Google Chrome.
Legal:
The password complexity checker is provided for educational purposes only and "as-is" and "at-your-own-risk" without any warranty of any kind. By using the complexity checker, you agree to hold NISC harmless for any damages or loss related to your use or reliance upon the complexity checker. The password is being checked against a customized dictionary list and is transmitted over a secure connection. NISC does not retain any type of information used in the complexity check or routines used in the password complexity checker itself.