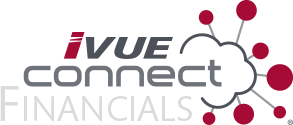 NISC's iVUE Accounting & Business Solutions have provided a streamlined, flexible accounting and human resources experience. As technology has advanced, that experience has been enhanced even further through iVUE Connect – Financials.
NISC's iVUE Connect – Financials HR persona is available now! The HR persona provides you all of the features you love from the iVUE ABS solution with more flexibility and accessibility than ever before. With iVUE Connect – Financials, your entire organization will be able to access their employee self-serve features anytime, anywhere. Employees will be able to submit time off requests, report expenses, enroll in benefits and more through a web browser. Managers and supervisors can view and manage their entire team, approve time off and expense requests, review benefit enrollment and more, right at their fingertips.
iVUE Connect – Financials HR module is the first of many accounting and business modules that will be available through iVUE Connect. For more information, or to sign up for iVUE Connect – Financials, click the link to the right.
Anytime, Anywhere


iVUE Connect is not only designed to work the way you work, but to work where you work. As long as you have an internet connection, you'll be able to access iVUE Connect.
Role Based

iVUE Connect is designed to work the way you work, closely matching the roles within our Member organizations. The software is designed to present the most important information to you up front to help you quickly and easily solve challenges and get work done.
No Implementation

iVUE Connect is an additive solution, which means it takes advantage of the iVUE data you already have and doesn't require a full implementation to get started.
Easy-to-Learn


Based on a thorough usability study of NISC Members' business processes, iVUE Connect is designed to allow users to jump right into the solution without a lot of training. The solution is intuitive, helping users find and access the right information fast.
Seamless


iVUE Connect allows for seamless transition between tasks. Whether it's checking for outage information, helping a customer pay their bill or logging a customer contact, information is easily accessible in one place.