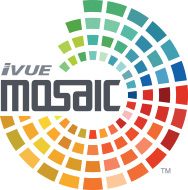 Business Intelligence turns data into actionable information. With iVUE® Mosaic, you have the tools and technology to combine and analyze data from a variety of systems, allowing you to make more informed business decisions and achieve your organizational goals.
iVUE Mosaic is a cloud-based solution and is accessible from the browser on any computer or mobile device, meaning you have access to your critical data anytime, anywhere, with just an internet connection. The standard visualizations help you quickly understand what your data is telling you, while the ability to drill into the underlying report allows you to investigate further with just a few clicks.
Today's organizations are faced with an opportunity to improve processes and identify trends like never before. With iVUE Mosaic, you are able to be more strategic by leveraging enterprise data to create meaningful connections for your organization. Insight into your data can be aligned and customized based on roles in the organization, helping them to be empowered and make informed business decisions. From executive to operations, employees are able to see the big picture with iVUE Mosaic.
Contextual Insights

iVUE Mosaic is an enterprise solution that tightly integrates customer care, financial and operational data to provide contextual insights into your data. With iVUE Mosaic, you can quickly and easily see trends in your data or identify anomalies that require investigation, allowing you to make more informed business decisions.
Information at Your Fingertips

The intuitive dashboard interface allows you to select from a large library of standard charts and reports with just a few clicks. Personalize your dashboard to display the information relevant to you. Share content with other NISC Members and collaborate to find the solution that best meets your organization's needs.
Cloud Based

iVUE Mosaic is a cloud-based solution, eliminating the need to install additional hardware or software on site. Accessible from browsers on any internet-connected device from smartphone to desktop, iVUE Mosaic is available when and where you need it.