Though NISC has always aimed to have a small-company feel, it's no doubt that we are growing, and our Membership is growing as well. Though each of our four offices are based in the midwestern United States, we represent Members in all 50, as well as American Samoa, Canada and Palau. It's incredible to see how we've expanded to become a true international organization over the course of our 50-year history.
Kaua'i Island Utility Cooperative (KIUC) has been an NISC Member for 15 years. Contrasted to the scenery surrounding NISC's offices, KIUC is engulfed by palm trees and lush greens – an oasis among oasis's. For Mailer Alfiler, manager of Member Services for KIUC, it's a scene all too familiar as she was born and raised on the beautiful island of Kaua'i in Hawaii.
Despite a five-hour time difference, Maile said receiving support and help from NISC has never been an issue for the co-op.
"It's been a really fluid process managing the time difference," Maile said. "We certainly prioritize and decide what can wait until the next morning, and what needs to be done now. But the after-hours support at NISC has been readily available to us. In the beginning when we first went live, we were using the after-hours support a lot but now, not so much so."
Just before becoming an NISC Member in 2003, Kaua'i Electric, as KIUC was formerly known, went up for sale with much uncertainty as to what was ahead.
"I've been working here for 29 years," Maile said. "We used to be a for-profit owned by Citizens Utilities. Kaua'i Electric went up for sale with the intent for it to become purely a telecommunications company, divesting its utility operations. A group of Kaua'i business leaders and professionals came together to form an electric utility cooperative, owned and operated by the people of Kaua'i, to bid on and acquire Kaua'i Electric. We became Kaua'i Island Utility Cooperative (KIUC), Hawaii's first and only electric co-op and since then, it's been much more member-focused and community-focused. We're a small, tight-knit community here, so it's important that we develop and keep strong relationships with our members."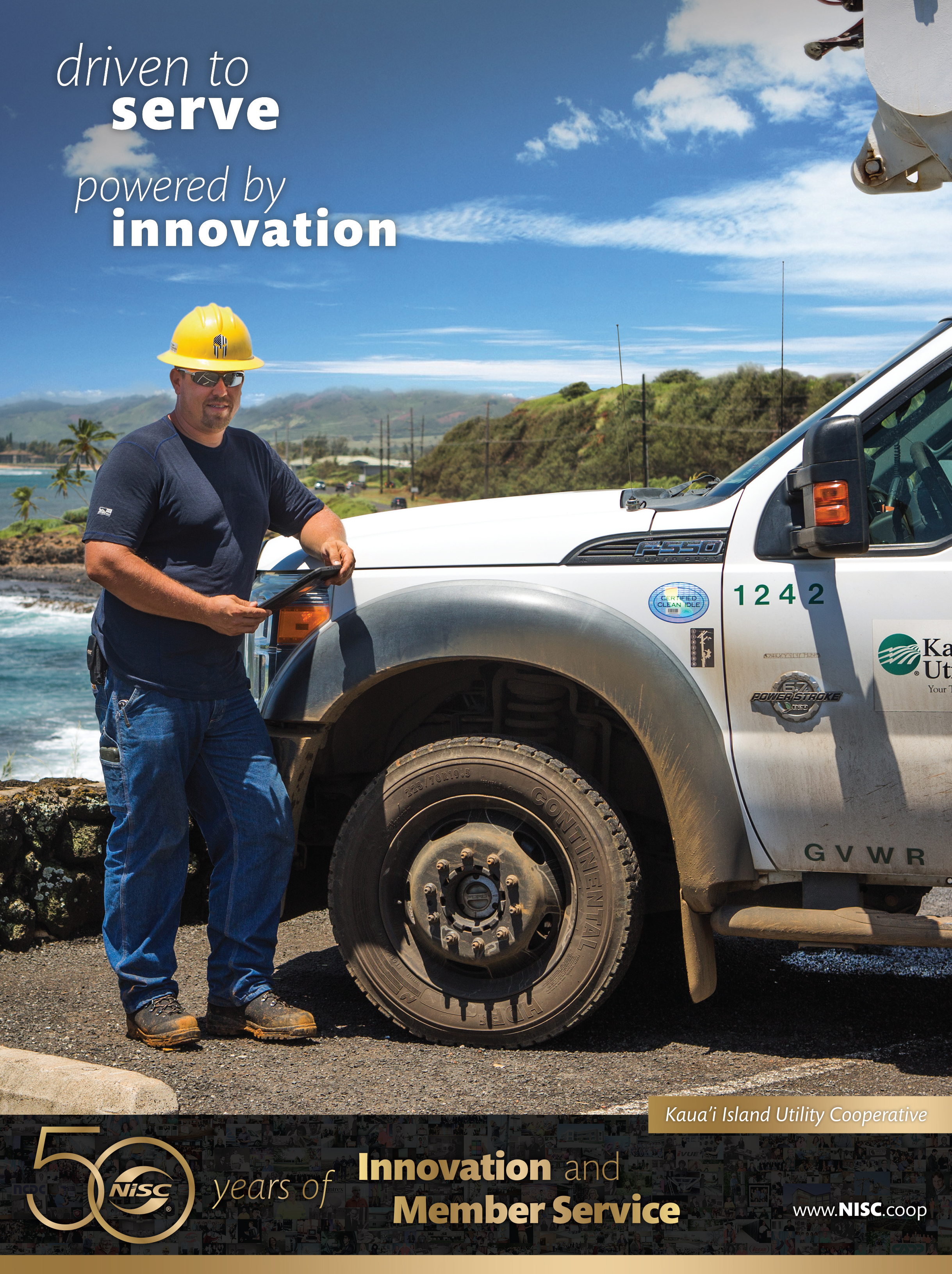 The main reason for signing on with NISC, Maile explained, was the implementation of an AMI system. At the time, they were using a CIS system from Daffron and an ABS system through NISC. In order to better manage the data coming in and to take advantage of new technological offerings, the cooperative knew they wanted to be on the same platform. That was just the beginning of KIUC's adoption of NISC solutions.
"Once we implemented CC&B in 2015 it all went up from there," Maile said. "We knew CC&B would be the main hub that would be managing the data for us. From the CIS, we developed a roadmap looking at all the different applications that NISC offered to integrate better with our accounting system. We signed MapWise, then we were utilizing the GIS and the staking system, CalltoOrder, AMS Services, Messenger, CallCapture, MDMS and Self-service applications. We also just implemented Document Vault and RemitPlus this year, and are looking forward to OMS, Mobile Workforce, AppSuite and Work Management in the near future. NISC just integrates so well with third parties, and because of those partnerships we can easily select who we want to work with."
Servicing members on an island can prove a difficult task at times for the cooperative, as they often must overcome hurdles that other NISC Members seldom worry about. For KIUC, it's all about preparedness.
"We recently went through flooding here on Kaua'i and we have a hurricane season so of course, in case of disaster, we have to be prepared and have communications available," Maile said. "Grid resiliency – How do you make your grid resilient to disasters? I think that's probably one of the biggest challenges of being on an island. The other islands in Hawaii are serviced by a separate utility company so we're here all by ourselves."
In 2008, the KIUC Board of Directors set its first strategic goal for renewable energy: reaching 50 percent renewable generation by the year 2023. In 2016 the goal was revised to 70 percent by 2030, and the State of Hawaii has mandated that all islands be 100 percent renewable by 2045. Utility scale solar and rooftop solar currently comprise about more than 80 percent of Kauaʿi's renewable power.  KIUC has placed much focus on solar and are currently working on several projects to move solar power to evening peak usage hours. The Tesla project, the world's first utility scale solar-plus-battery storage facility, garnered worldwide attention when it opened in Kaua'i in March of 2017. When operating at peak efficiency, Tesla's 13 megawatt (MW) battery storage system moves 52 megawatt hours of solar power to Kauaʿi's evening peak usage period. KIUC estimates that by the end of 2019, when two additional solar-plus-battery storage facilities are expected to be operational, roughly 65% of the island's peak nighttime demand will be met by stored solar energy (You can read more about the project here).
A couple of weeks ago, with help from a local photographer in Hawaii, NISC set out to take photos of employees at KIUC for our current advertising campaign running in industry publications including NRECA's Rural Electric Magazine. Shelley Paik, who works in communications at KIUC, shared her excitement for the ad, and how the request came at the perfect time.
"We were right in the middle of working on our Annual Report when NISC reached out to us," Shelley said. "We were able to use some of the photos from the campaign in our book, and they were perfect. We're so appreciative for the opportunity to be featured by NISC."
In reflecting on NISC's 15-year partnership with KIUC, Maile brought up NISC's flexibility and willingness to always take on new projects as technology continues to advance.
"Right now, we have several projects we're working on with NISC," Maile said. "One of them is possibly replacing our legacy efficiency program tracking system. For me, it's all about NISC listening to our needs and trying to incorporate them with their existing services. NISC has always been very willing to help us achieve our goals and objectives. Through collaboration and sharing of ideas, we are headed in the right direction."