Our homes, including our appliances, are getting smarter. You can turn your lights on and off with a command, and your refrigerator can let you know when you're running low on milk. What if they could give you more information, like how much energy they're using each month? That would be helpful in determining where your monthly usage is going and give you a plan on where to cut back to reduce your bill.
With NISC's Consumer Analytics, powered by Bidgely, they can. Consumer Analytics is a new tool that integrates into NISC's SmartHub web and mobile application. SmartHub users can open their app and access detailed usage breakdowns that show them exactly how much energy their home used on things like cooking, lighting and entertainment.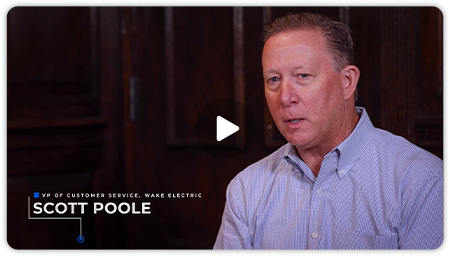 Click here to learn more on Consumer Analytics
from Wake Electric's Scott Poole.
These detailed breakdowns provide insight into a home's overall energy picture. Seeing that picture more clearly helps drive better decision making on energy use and ultimately a lower energy bill. The Consumer Analytics solution doesn't just leave consumers to make their own decisions, though. The solution also provides tips and tricks to help guide consumers in lowering their use and increasing savings.
"SmartHub is designed to help the consumers at the end of the line better manage their accounts and understand their energy use," said David Bonnett, NISC Vice President of Product Management. "Consumer Analytics provides an even more enhanced view of their consumption, which gives them better insight for smarter decision making."
Consumer Analytics also provides NISC's utility Members with a wholistic view of their customer base. These insights give customer service representatives a better view of a customer's energy profile, leading to increased customer satisfaction. These analytics allow utilities to proactively engage customers on potential issues before they contact you.
Wake Electric has been NISC's beta partner for the Consumer Analytics solution. Wake, based in Wake Forest, N.C., prides itself on being ahead of their investor-owned counterparts when it comes to technology. However, seeing some usage disaggregation from the local IOU prompted Scott Poole, Wake's Vice President of Customer Service, to reach out to NISC for more information and a possible solution. Wake jumped at the chance to partner with NISC on Consumer Analytics.
"Consumer Analytics allows a member to take full autonomy of their account and understand their usage by taking it down to the appliance level detail," Poole said. "Even more important are the communications opportunities that come along with it like usage alerts and bill projections. I think it's a great opportunity that allows members to take full account of the activity in their home. If you can measure it, you can improve it, and I think that's what this disaggregation piece is all about."
To learn more about Consumer Analytics, please reach out to your NISC Account Manager or contact us at sales@nisc.coop.