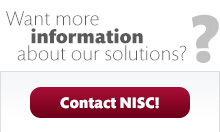 National Information Solutions Cooperative (NISC), a leading provider of software solutions to utility and telecommunication companies, has acquired Austin, Texas-based Affinegy. Click here to read the official announcement.
With this acquisition, NISC launched the NISC User Services System, leveraging the Affinegy product as part of its overall solutions portfolio. The solution can be operated independently, or it can be integrated with NISC's customer care and billing solutions along with NISC's SmartHub web and mobile tools for payment processing and order management. The acquisition marks the next milestone in NISC's iVUE fully integrated Enterprise System, which provides accounting, engineering and customer care functions. Affinegy's solution will integrate across NISC's enterprise platforms and will allow its Members to provide enhanced broadband services to their end consumers/customers.
The NISC User Services System will also support the requirements for Connect America Fund Phase II (CAF-II) reporting that broadband operators can use to satisfy reporting or Alternative Connect America Fund reporting requirements to the FCC.
For more information about the NISC User Services System solution or to request a demonstration, please contact NISC at 866.999.6472 or at sales@nisc.coop.