NISC User Services System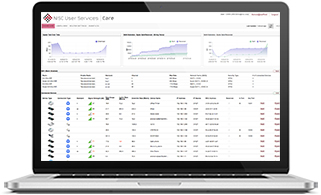 With the NISC User Services System, operating your broadband service offerings at peak efficiency and providing true customer care and support of the Internet of Things (IoT) is now a reality. This Auto Configuration Server (ACS) management solution is a powerful, hardware-independent, cloud-based tool built to truly enhance your customers' internet experience and reduce your truck rolls and customer support expense.With the NISC User Services System, your organization can effectively resolve broadband service interruptions, or even correct them before the customers become aware of an issue, by managing the internet gateway and the devices behind it connecting to your broadband service. The critical component to this solution is your customers' ability to leverage those same tools – view their broadband usage, resolve connectivity issues, manage devices and receive alerts – to help them better understand the services you provide and satisfy their services needs largely on their own.
Core ACS Management

Provision new devices automatically, remotely push firmware updates and securely administer changes to the customer's network to resolve current issues and proactively prevent others. Resolve service interruptions efficiently via the intuitive support dashboard that displays current and historical usage, connected devices diagnostics and WiFi interference; all while offering click-to-fix solutions.
Customer Self-Care Functionality

Empower customers to manage devices, resolve performance issues, set parental controls and administer changes to their home network all from the convenient SmartHub app.
Customer Premise Equipment

Replace or upgrade customer premise equipment via a simple automated process that clones the personalized settings from the old to the new equipment between different vendors, including extensions to mesh/extender WiFi systems from single gateway origins. Benefit from the proven vendor-agnostic platform that provides a single management solution for xDSL/Fiber/Cable/LTE customer premise equipment.
Powerful Reporting Tools

Support the requirements for FCC speed and latency testing.
Increase Efficiency and Revenue
Realize a reduction in operational costs with fewer support calls and more efficient truck rolls. Embrace the opportunity for added revenue with this device and managed WiFi service offering as well as possible equipment upselling such as extenders and other core equipment upgrades.
Learn more about User Services System!
Complete the form below to access additional information about NISC's User Services System and to have an NISC representative reach out to answer any of your questions.