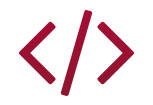 Do you want to see your work make a difference?
NISC develops and customizes client applications with a goal of excellent user interfaces and rock solid code, while optimizing operational efficiency and affordability. A perfect balance of individual and collaborative workflow makes NISC a great place to work.
Web
Leverage HTML5 and CSS to create clean and responsive web applications.

Android/iOS
Write mobile applications for Tablets, Phones, and TVs.

Data Science
Leverage big data systems to perform large scale analytics and predict future patterns.
User Experience
Design and usablity test elegant and useful graphical interfaces.

Network Infrastructure
Help manage NISC's private cloud environment.

Quality
Work with engineering to help test and verify software releases.
Open Positions